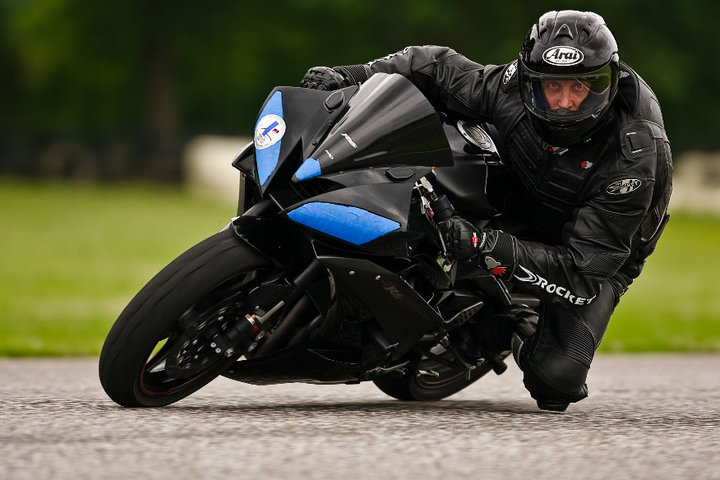 Racing Stories
Ben Spies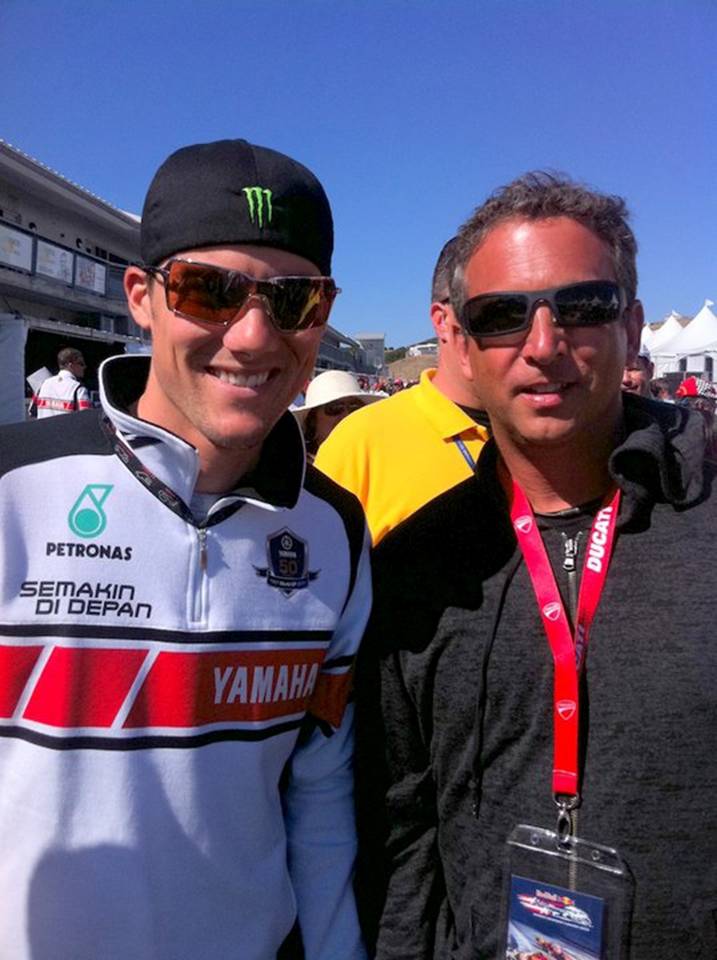 Hanging out with "Elbowz"
Ben Spies, also known as "Elbowz", is a professional motorcycle road racer who turned pro in 2000.  He won the AMA Superbike Championship for Suzuki in 2006, 2007, and 2008.  In 2009, he raced in the Superbike World Championship series for Yamaha Italia team; winning the championship in his rookie year.  In 2010, Ben began racing in the MotoGP Championship for Yamaha where he finished 6th and, in 2011, he finished 5th.  This photo was taken in the paddock at Laguna Seca in 2011.
---
Kevin Schwantz Racing School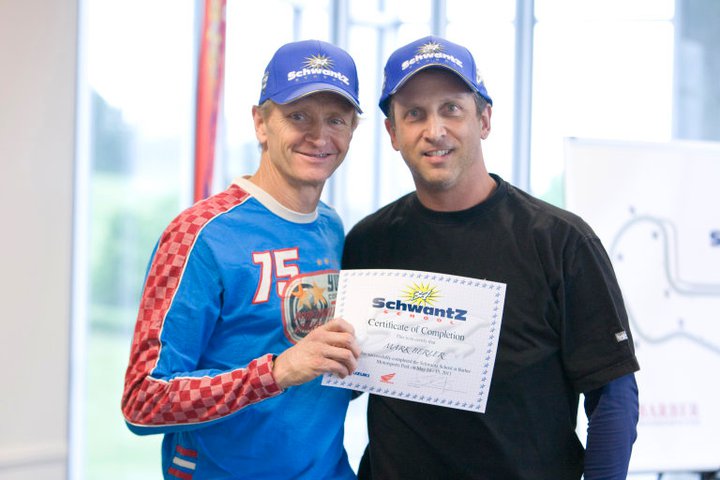 Hanging out with the 1993 500cc World Champion!
Kevin Schwantz is a former member of the Yoshimura Suzuki Superbike racing team.  In 1993, Schwantz won the 500cc Grand Prix.  He ended his career with an outstanding 25 wins and 51 podium finishes.  In 1999, Schwantz was inducted into the AMA Motorcycle Hall of Fame, and the following year, the FIM named him a Grand Prix "Legend".  He currently owns and operates a motor
cycle racing school, that I attended, in Birmingham, Alabama.
---
I fought turn 13 at Barber and turn 13 won!
I've been riding motorcycle track days for about 7 years.  I've gone off the track about a dozen times, but only dropped the bike once.  The one incident started as a low side on cold tires.  Luckily, I was able to pick the bike back up, start breaking and attempt to gracefully ride off the track at about 30 mph.  Unfortunately, as soon as I left the track, the bike got stuck in the muddy grass from the rain the night before.  The result – I did a superman over the front handlebars when the bike suddenly stopped in the mud and fell over.  Other than a muddy bike, and muddy leathers, all was good.  I often wondered what it was like to crash at high speeds on a motorcycle at the track.  I've seen countless people do it.  We all wear protective gear and the tracks are made to accommodate crashes by providing lots of runoff space.  Everyone who races eventually gets to experience a crash.  I knew one day my time would come.  But what does it really feel like?  Does it hurt?  Do you just slide on the leathers and let the equipment do its job?  Well, yesterday, I got to find out…
It was a beautiful day at Barber Motorsports Park.  I was in session three on the first of a two track day weekend.  I waited two laps to warm the tires up before getting into "full tilt boogie".  On the third lap, I was feeling good, starting to pick up the pace.  I was approaching my favorite part of the track – turns 12-15.  I came through turn 12 nice and smooth, went up over the hill and started to descend down into turn 13.  I saw my turn point, adjusted myself on the bike for the high speed right hander, and then it happened…Low side at about 80 mph…
The crash was a total surprise…One second you're smiling and enjoying your favorite part of the track.  Then, for a split second, I knew I was crashing…And then, WHAM!  My helmet smacked into the ground.  All sorts of things go through your mind at that second.  My first thought, wow, that freaking hurt!  After my helmet hit, I started tumbling.  I explicitly remember tumbling 2-3 times and then trying to stop.  It was just too hard to stop.  No matter what I did, I just kept tumbling.  After a few more times, I just decided to stop trying as I knew I would eventually come to a stop.  I ended up hitting the protective barrier about 150 feet from the edge of the track.  When I stopped, the first thing I did was get up to see if the bike was ok.  As soon as I stood up, I knew I needed to sit down.  The bike was so far away, I could barely focus on it.  The next thing I knew was one of the corner workers coming to help me.  He asked if I was alright.  I said yes, tried to get up again, and he suggested I stay down as I was struggling to get up.  The next thing I knew I was in an ambulance.  I can't remember how I got there, but lying on a gurney and the EMTs doing tests.  At this point I was disoriented, dizzy, felt a little beat up, but everything seemed to be intact.  After some time taking tests in the ambulance, I signed a releas
e and left for home.  My track day weekend was over.  My brand new helmet destroyed and an unknown amount of damage to my bike…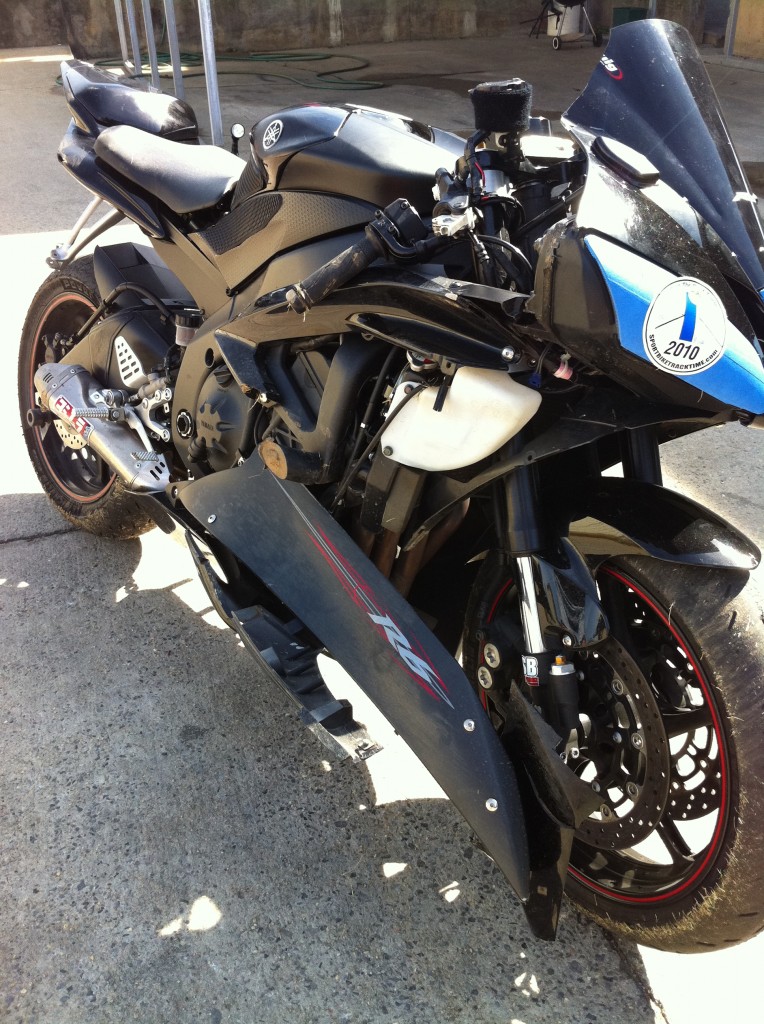 I am very happy to say I had great equipment that did its job.  My injuries include a twisted ankle, bruised hip, bruised shoulder and a few crooked fingers (they don't hurt so much, just look funny).  I am thankful nothing was broken.  Lots of strained muscles and some cuts, bumps and bruises, but all in all, ok…
So, one might ask, what does one do the day after a high speed motorcycle accident?  Look for new equipment, of course!  Assuming my bike can be fixed, I have already picked out a new paint scheme for the bike, helmet and leathers…Let me know what you think!